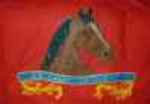 The 5th Troop, Virginia Light Horse, was raised in 1776 by "Light Horse Harry" Lee. It contained 30 troopers and joined Washington in New Jersey in October, 1776. This elite unit had a glorious record in the Northern theater of the war. It served for a time as Washington's body guard, and was intimately involved at Paulus Hooke, Brandywine and Stoney Point. In 1780 it became Lee's Partisan Legion and served throughout the South with great distinction particularly at Guilford Courthouse, NC.

The history of Lee's 5th Troop of Dragoons is best studied from the Memoirs of Harry Lee, himself. These were written some time after the war and published in 1821. Confederate General Robert E. Lee, Harry's youngest son, introduced the 1869 edition of his father's book. Lee's memoirs serve as a major source of information about the Revolutionary War in the Southern theater, and about the historical unit itself. The Orderly book of the 5th Troop is also available in manuscript form, as are the Virginia stores records which serve as excellent evidence of what the unit wore and how they were armed and equipped.

The historical unit was raised in 1776 by the 19 year old Lee in the area of Alexandria, VA from among his aristocratic friends. Lee's cousin Theodoric Bland, the regimental Colonel of the 1st Dragoons, had received a request from Congress to raise one of four Regiments of Continental Horse (six Troops)and had approached Harry with the offer of a Captaincy if he could raise a troop of 30 men. The recruits supplied their own mounts and, initially, their own weapons. Nonetheless, Lee spent a good part of his own fortune providing the "blue and red" uniforms for his troop.

The Virginia stores records show that as the 1st Dragoons was forming both a green and brown, and a blue and red uniform were being used. A lieutenant of the 5th Troop is recorded as specifically drawing blue and red cloth with gold buttons for his uniform. Also, the Dragoons were required to supply themselves with hunting frocks in the way of a battle or fatique dress. The diary of a New Jersey resident later describes the 5th Troop in these colors. The stores records also evidence the fact that the regiment was supplied with 292 slashing swords taken from the royal governor's place in Williamsburg. Leather breeches, French style top boots, capes, and leather Dragoon helmets finished the equipment. Initially carbines seem to have been in short supply and some troopers carried muskets and rifles, as well as their own pistols.
Lee's men traveled north with the 2nd and 3rd Troops, forming the first squadron of Virginia Light Horse, to join Washington in New Jersey. From October to the end of the year Lee's troops executed fifteen recorded raids on Britrish supply trains capturing 24 carts in a single operation. The total loss to the 5th Troop was two wounded troopers and a wounded horse. Also during this period Lee's men are generally attributed with having scouted the Christmas attack on Trenton (although they took no active part in the battle). Thereafter, they were stationed near Bound Brook, NJ, and small detachments scouted across the Raritan River toward British held New Brunswick.

1777

In May 1777, Lee's troop was detached for temporary duty with General Lincoln and ordered to Chatham to cover the army's northern flank. In June they were manuvering around Woodbridge and Short Hills, NJ. They then moved southward toward Wilmington, DE to defend Philadelphia from the British who were landing at Head of Elk. At this time Lee attacked and captured a British scouting and foraging party bringing in 24 captives. Thereafter Washington chose Lee for several special assignments. Nonetheless, the 1st Dragoons (whether Lee's men or not is questioned) failed to detect the British build-up on the right of Washington's army at Brandywine Creek, PA although Col. Bland himself discovered the envelopment in time to meet it. Lee's Memoirs give no details of the stubbornly fought withdrawal of the Dragoons on that day.
Shortly thereafter, Lee and four Dragoons were dispatched with Washington's aide, Alexander Hamilton, to burn some flour mills near the Schuykill River in PA. Unfortunately elements of the 16th and 17th British Light Dragoons had already secured the mills, and Lee and Hamilton found themselves cut off and in danger of capture. Hamilton became separated from the others during the ensuing skirmish but was able to escape by recrossing the river. It was in recounting this encounter that Lee commented on the "innocence" of mounted gunfire and his the reliance on the sword. In October at the Battle of Germantown, Lee's Troop was detailed to act as Washington's body guard. During the rest of the year, the unit scouted the Jersey bank of the Delaware River and harassed enemy foragers and scouts. In December Lee combined with Daniel Morgan's riflemen in a series of small raids.

By the end of 1777 Lee's Troop had gained some measure of notoriety. The New Jersey Gazette of Jan. 14, 1778 wrote: "A troop of dragoons in Bland's regiment, seldom having more than 25 men and horses fit for duty, has since the first of August last, taken 125 British and Hessian privates, besides four commissioned officers, with the loss of only one horse. This Gallant Corps is under the commanded of Captain Lee, Lt. Lindsay and Cornet Peyton, whose merit and services it is hoped will not be passed unnoticed or unrewarded".
1778

Throughout the revolution Harry Lee was given commands that enabled him to exercise independent initiative. In recognition of his success Col. Bland presented Lee with a small blue cavalry pennant decorated with white stars. This was a banner that Lee kept with him throughout his career as his personal guidon. Washington was so pleased with Lee's actions that he allowed him to mark all correspondence between them as "Private." Nonetheless, Lee's individualism ran afoul of the army establishment, and Washington's open regard for him brought Lee enemies. In 1778 he refused to rejoin Bland's command, and Washington wrote to Bland excusing Lee from doing so. Washington also wrote to Congress regarding an independent command for him. "Captain Lee's genius particularly adapts him to a command of this nature." Lee would never again serve under Bland's direct command.

In Jan. 1778 Lee's Troop established its winter quarters at Scott's Farm at the top of Mount Joy in PA. This was an advanced outpost of the wintering army, and Lee's Troop had many opportunities to harass the enemy. Lee activities so enraged the British commanders that Simcoe, the outstanding Loyalist officer, was sent with a party of the Queen's Rangers and a detachment of the 17th Light Dragoons to surpress him.

On Jan 19, 1778 Simcoe's force of more than 200 men evaded Lee's videttes and attacked the rebel camp at Scott's Farm. Most of the Troop were out foraging, but Lee and seven others barricaded themselves in the farmhouse and held off the British attack. After killing or wounding eight of the attackers, Lee successfully bluffed the British commander into thinking that American support had arrived. Lee led a counterattack of seven men from the house shouting that they would "capture them all." Being inside enemy lines the Rangers and 17th Dragoons discretely retired. In this action only one Dragoon, Lt. Lindsay, was wounded in the hand.
Although he had successfully coordinated his activities with riflemen and infantry commanders, these exploits left Lee with the reputation of being a "glory hound" unable to work with other mounted units. Nonetheless, both Gen. Lincoln and Gen. Washington considered him an exemplary officer. In April 1778 Lee was made a Major and immediately planned and led a successful raid against the Crown outpost at Paulus Hooke (Elizabeth, NJ). At the last moment a certain Major Clarke joined the expedition. When Clarke claimed the right to command based on an earlier commission, Lee lied about the date of his own. Subsequently, Lee was court martialed for not turning over the command. However, the court's finding were inconsequential in the face of Lee's success. Congress awarded him a gold medal (the only such award given to any man in the war below the rank of General).

In the Spring of 1778 Lee's Troop was given a new designation, The Partisan Corps. The 5th Troop became the 1st Troop, the Maryland/Delaware Troop of Capt. Allan McLane became the 2nd Troop and a 3rd Troop, made up entirely of native Americans of the Onieda nation, with their own horses and officers was later authorized by Congress. The Partisan establishment was continued until it was officially declared a Legion, with two infantry companies being attached, and sent to the Southern theater of the war. Nonetheless, Lee, now a Lt. Colonel, continued to refer to the Legion as "Partisan" in documents and letters. The Partisan Legion received recruits from throughout the Continental Army, and a position in Lee's command was highly regarded.
1779

In 1779 and 1780 the war moved to the Southern theater, and Lee's Troop's (now a Legion) moved south with it. In the Carolina's, Lee served under the fighting Quaker, General Nathaniel Greene, who he believed was the finest American officer of the war. Greene led the British force under General Cornwalis through a protracted cat and mouse game. When forced to fight, Greene generally failed to overcome the superior British force, but he made the British victories so costly that they were weakened by their success. Lee's troops generally served as advanced guards or rear guards for the American army. They combined mounted and dismounted tactics into a form used by Legionary forces.

Lee's men were now dressed in dark green uniforms with black cuffs and collars. These were described as being exactly like Simcoe's Queen's Rangers. The lack of differentiation among the uniforms seems to have caused a good deal of confusion. Lee's major antagonist in the south was Major Banistre Tarleton, "the Green Dragoon." Tarleton was infamous for his cruelty, and he served as the model for the evil British Dragoon portrayed in the movie "The Patriot." Lee was mistaken for Tarelton at least once when he boldly rode into a British supply depot and requisitioned supplies and ammunition. Lee also captured or killed as many as 400 southern Loyalists by posing as Tarleton and springing an ambush on the men as they stood at attention to be reviewed by Tarleton.

Lee served closely with such southern partisan leader as Marion and Pickens. He fought at Hobkirk's Hill and Fort Mott, but never came into direct contact with Tarleton.